Giant Voice 6 Watt Ceiling Mount Speaker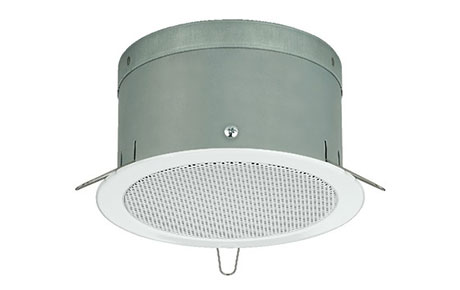 Giant Voice® 6 Watt Speakerr GV-SP6T
With the EN 54-24 certification the GV-SP6T-CM ceiling mount speaker has been approved for voice alarm systems.For operation in 100 V systems an audio transformer has been integrated. In case of fire, the closed metal housing (fireprotection cover) will restrict the spread of fire.
The speaker is the ideal solution for Public Adress systems in office environments, corridors and reception areas. The flush mount design offers a discrete installation.The spring locks makes installation in celing plates fast and easy.
Specifications
Diameter: 17 cm
Height: 9,5 cm
Weight: 1 kg