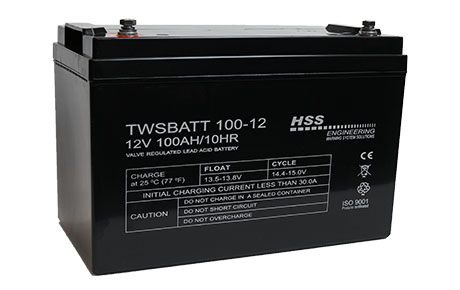 TWSBATT 100-12

The TWSBATT 100-12 is a 12V valve-regulated lead-acid (VRLA) battery for the TWS 290 Public Warning System.
Technical data
Nominal voltage
12V
Nominal capacity (10HR)
100AH
Weight
Approx 28.5 kg (62.8lbs)
Terminal
T11
Container material
ABS
Rated capacity
100.0 AH/10.0A (10hr, 1.80V/cell, 25°C/77°F)
Max. discharge current
1200 A (5s)
Internal resistance
Aprox 4.8mΩ
Temp. range
Standard operating: -15~50°C (5~122°F)
When paired with our temp. compensating charger TWS-BATTCH:
Extended Operating: -35~60°C (-31~140°F)
Cycle use
Initial Charging Current less than 30.0A. Voltage
14.4V~14.0V at 25°C (77°F) Temp. Coefficient -30mV/°C
Standby use
No limit on Initial Charging Current Voltage
13.5V~13.8V at 25°C (77°F) Temp. Coefficient -20mV/°C
Capacity affected by temperature
40°C (104°F) 103%
25°C (77°F) 100%
0°C (32°F) 86%
Self discharge
TWSBATT 100-12 batterys may be stored for up to 6 months at 25°C(77°F) before a recharge is required. For higher temperatures the time interval will be shorter.
Specifications
Length: 330 mm (12.99")
Width: 173 mm (6.81")
Container height: 212 mm (8.35")
Total height: 220 mm (8.66")